Frequently Asked Questions
What do the symbols on the calendar mean?
The calendar is a quick way to view your logged symptoms and treatments over time.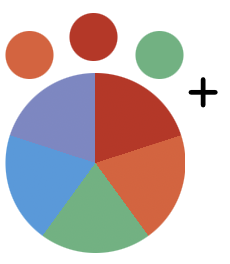 The big circle (pie chart) displays all the colors of symptoms logged for that day.
The small dots above a day indicate the treatments used. Up to 3 treatments are displayed.
How do I log symptom severity or timing, or treatment quantity or timing?
Symptom Shark is primarily a daily symptom and treatment tracker which is meant to track the presence or absence of a symptom of treatment across time.
However, there are a few ways to use Symptom Shark for more detailed tracking:
Use notes on a particular day to record more detailed information
Set up different symptoms for different severities or timings - for instance, "Migraine - Severe" or "Migraine - Morning"
Set up different treatments for different quantities or timings - for instance, "Tylenol 500mg" or "Migraine - Morning"
How does Symptom Shark help me prepare for appointments?
As questions about your health come up, we recommend logging them via Dr. Q&A so you can reference them during your next appointment.
Using Reports, you can also export a history of your symptoms and treatments and print or share it with your doctor or caregiver.
How do I update my symptoms or treatments?
Go to "Settings" to add, remove, or update your symptoms or treatments.
If you don't want to remove a symptom or treatment but want to hide it for the time being, you may "mute" it. This will leave the data intact but hide that symptom or treatment in the app.
How do I record an important event that may impact my symptoms (for instance, starting a new medication)?
The "star" can be used to denote important days. It is also recommended to enter notes on the day for future reference.
How do you make sure my data is kept private and secure? How do you ensure my confidentiality?
All data collected is encrypted and secured by the third party CareEvolution. CareEvolution has undergone rigorous third party independent verification of the processes and technologies it uses to manage the security and privacy of the information it manages. It meets the stringent FISMA (Federal Information Security Management Act) 800-53 Rev4 guidelines to protect information. Regular penetration testing and third party audits verifying that CareEvolution continues to meet the security and privacy requirements that are in place.
All data is maintained in the United States.
How will my data be used if I join Symptom Shark?
Your data will never be sold or used for advertising.
Symptom Shark collects your data for the purposes of:
Improving general health, medical and fitness management and for the purposes of medical research.
Understanding, customizing and improving user experience. For example, we may engage analytics services to analyze this information in order to help us understand how users engage with and navigate Symptom Shark, how and when features within Symptom Shark are used and by how many users.
We may use the data without your identifying information (name, contact information, email address) to support research and health or quality improvement initiatives with external collaborators and partners.